MomentFeed research found the six largest captive insurance carriers fail to capitalize on their proximity to millions of potential buyers. (All graphics provided by MomentFeed.)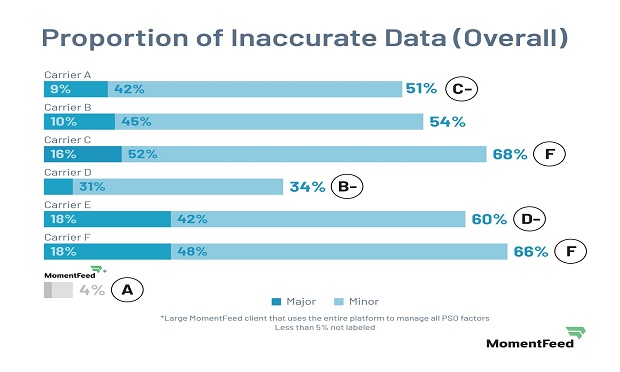 Alarmingly, the average insurance carrier was found to have inaccuracies in 55% of its data. (All graphics provided by MomentFeed.)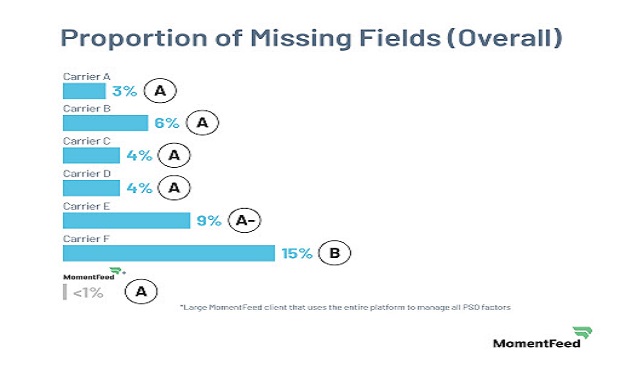 Most carriers did a decent job of maintaining profile completeness, however, even the slightest margin of error seems to knock carriers out of the Google 3-Pack. (All graphics provided by MomentFeed.)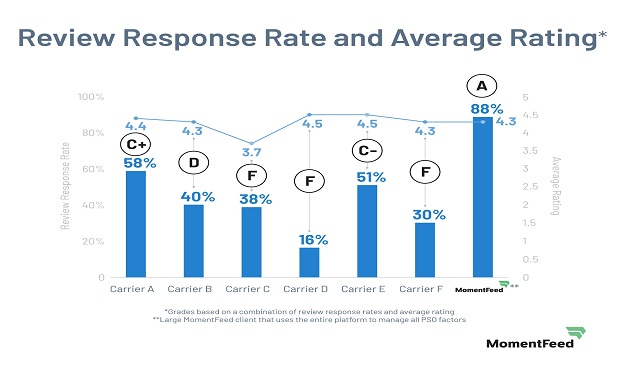 Insurance carriers did a poor job of responding to their customers, with all but two replying to less than half of their reviews. (All graphics provided by MomentFeed.)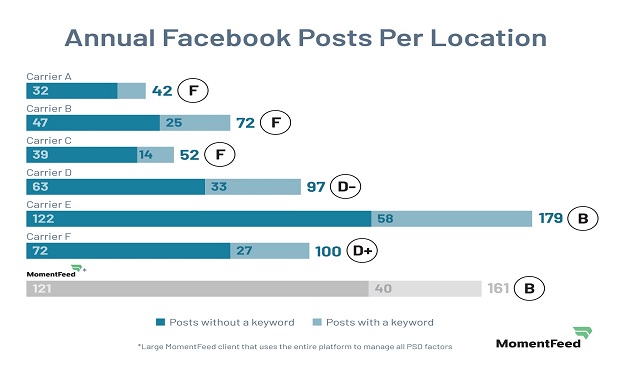 The average local insurance carrier posted on local social pages 90 times over the course of the 365 days measured. This fell below MomentFeed's recommended levels of at least 110-112 per year. (All graphics provided by MomentFeed.)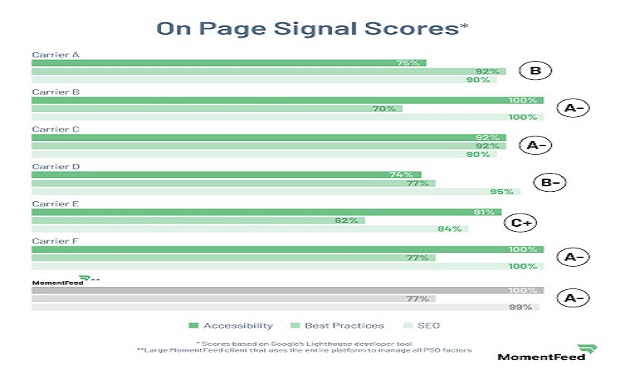 The average performance for the top six captive insurance carriers across accessibility, best practices and SEO was 88%, 78% and 93% respectively. (All graphics provided by MomentFeed.)
I've been fortunate to have had a front-row seat for the insurance industry's remarkable digital transformation over the last decade. As the industry progressed to digital customer acquisition, roadblocks were created for some, the playing field was leveled for others, and the scales were tipped towards the consumer-direct channel.
In today's fiercely competitive environment characterized by low switching costs and growing product commoditization, captive carriers are constantly looking for any sustainable advantage. But they're often left competing head-to-head on price via shared leads curated through aggregators.
What these insurers don't always realize is that they have a hidden advantage that doesn't require massive reallocation of marketing spend — their large network of local agents with physical presence near millions of potential insurance buyers. But few are aware of how to fully capitalize on this advantage. In fact, most are unwittingly turning their backs on prospects at a critical juncture in the purchase journey.
The local connection
One consequence of the COVID-19 pandemic is a surge of loyalty to local businesses, a development that favors captive insurance carriers' brick-and-mortar community presence. Shoppers are saying they are more willing than ever to support local businesses, with 77% of consumers planning to support small businesses and purchase services locally post-COVID 19.
Can brick and mortar agent locations help with digital sales?
The short answer is: Yes. And here's how that works in the captive's favor.
Let's start with the most common way consumers shop for insurance, which is via a Google search using unbranded search terms like 'affordable car insurance,' or 'best rate insurance.' The first thing most consumers see when performing searches after a few paid ads is the top three organic results from nearby businesses, referred to as the Google 3-Pack. Brands make every effort to show up in the Google 3-Pack because this coveted real estate drives the most traffic.
What some may not realize, though, is that these consumer searches factor in the user's proximity to local businesses, regardless of whether or not that user adds the term 'near me.' As a result, captive insurance carriers have an incredible opportunity to show up in local organic search results virtually free, and alongside online-only competitors paying high cost-per-click (CPC) rates for the same real estate.
How a carrier's local agents show up is directly connected to how well their local digital presence is managed.
Five signals that determine local search rankings
To increase organic search rank for important keywords like 'auto insurance,' and improve how frequently local agents appear in the Google 3-Pack, carriers need to optimize for the five known controllable signals that determine local search rankings via a process called Proximity Search Optimization (PSO). Effective PSO requires managing the five known signals including:
Local Listings Accuracy: Information accuracy and consistency across all networks;
Local Profile Completeness: All applicable fields filled out on each discovery network;
Ratings and Reviews: High rating score and responsiveness to reviews;
Local Facebook Publishing Activity: Frequency of posts on local social and ideal keyword density; and
On-Page Local SEO: Local agent page alignment with Google's assessment of quality.
Given their marketing maturity, we were surprised to find truly lackluster performance among six of the largest U.S. captive insurance carriers on these metrics.
Here are some important tips for optimizing for proximity search, plus real world examples of where our research shows top carriers stumble:
Reply to nearly all of your reviews. Local captive insurance agents we studied did a poor job of responding to their customers' ratings and reviews. All but two insurance carriers replied to less than 50% of their reviews. For comparison, successful MomentFeed clients reply to 88% of reviews with a response time of seven hours.
Post to local social sites at least 9-10 times a month. All but one insurance carrier received a below average grade in local social, representing a significant opportunity. The average local insurance carrier posted on local social pages seven and a half times per month. Including a keyword in a post is another easy way to optimize a local agent's listing for proximity search free of charge, yet only 30% of insurance carriers used a keyword in a post.
Make sure your listing data is accurate and up-to-date. This may sound obvious, but with so many pandemic-driven office closures over the last few months, a surprising number of businesses across consumer industries have not kept their listings up to date. Local insurance offices are no exception. The average local insurance carrier was found to have inaccuracies on 55% of its data. Listing accuracy refers to the degree that a location's data is accurate and consistent across the internet and is widely considered the most important controllable factor in proximity search rank.
Optimize your local agent website's on-page signals in the categories graded by Google. On-page signals refer to the characteristics of a location's webpage that help search engines and consumers use the site. Google grades pages in three main categories – accessibility (ability of the page to be operated by literally anyone), best practices (overall code of health – security, page load time, load without errors, etc.), and SEO (factors that help search engines find and understand the page). The average overall grade for the captive insurance carriers included in the report was 87% across accessibility, best practices, and SEO.
Make sure all applicable fields are filled out on each discovery network. When analyzing Google and Facebook, two of the most prominent discovery networks, captive insurance carriers failed to complete 3% to 15% of applicable fields such as hours and photos. While this may not seem like much, even the slightest margin of error seems to knock carriers out of the Google 3-Pack. Both of the carriers who performed poorly in this category saw a significant drop off in the number of locations appearing in the Google 3-Pack.
In a world of marketing via price-driven comparison sites, the lesson for carriers is to seize the opportunity to differentiate and capitalize on their proximity to millions of local buyers. There are significant financial gains in store for the organizations that get it right.
Nick Hedges ([email protected]) is CEO of MomentFeed, makers of software to manage the entire mobile customer experience for multi-location brands.
See also: