Chief Health Officer Brett Sutton said the confronting campaign aimed to help Victorians "understand the reality" of widespread deaths that the state is fighting to avoid.
"It is an unfolding tragedy that is hard to get your head around," Professor Sutton said on Saturday.
"This is an invisible enemy in lots of ways and when we just talk about numbers, when we talk about reproduction numbers and transmissibility, that doesn't bring it home like understanding the genuine consequences for people does."
Professor Sutton pointed to places such as Spain, northern Italy and the United Kingdom, where "there is barely a family that doesn't have awareness of somebody in their extended network who has died".
"That's what we're trying to avoid. But it's what people need to think about in terms of having a motivation to do the right thing," he said.
Professor Mary-Louise McLaws, an epidemiologist who called for a hard-hitting Australian advertising campaign several weeks ago, praised the messaging and said it would tackle the perception that coronavirus should be dismissed as a mild illness for most people.
Loading
"The majority of cases don't need medical intervention but it doesn't necessarily mean the illness is mild or doesn't have consequences to the next generation of cases that you might pass it on to, such as your parents," explained Professor McLaws, a UNSW academic and adviser to the World Health Organisation.
"A campaign like this has a really great knock-on effect of showing the misery it can cause others, just by inadvertently not doing the right thing."
Ten days after the introduction of stage three lockdown restrictions across Melbourne and Mitchell Shire, Victoria recorded 357 new cases on Saturday and has a seven-day average of 365 cases per day.
Despite the case numbers, Premier Daniel Andrews said he believed most Victorians were heeding the government's messages and the advertising campaign intended to demonstrate that "everyone is touched by coronavirus".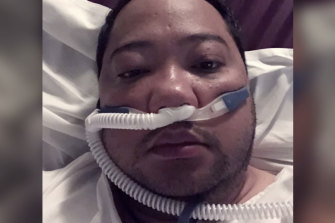 Professor Sutton also drove home the directive on face masks, which became compulsory in Victoria on Thursday, by comparing them to road safety this week.
"Face masks are to coronavirus what speed limits are to the road toll," he said.
Victoria's TAC road safety campaigns, which often recreate crashes and show harrowing injuries to pedestrians or drivers, have become renowned for their graphic nature and were translated to be aired in China in 2012.
Michael is a state political reporter for The Age.